How to Choose Art from an Online Southwest Art Gallery
When someone visits your home, what do they see? The items you surround yourself with should be a reflection of your personality and unique style. Fine artwork sourced from an online Southwest art gallery or art publishing company can effectively draw together the different elements of a room to present a cohesive theme. There are no set-in-stone rules when it comes to choosing artwork for your home. However, when you visit an online Southwest art gallery or art publishing company, you may want to consider the following tips.
Select the right space for your artwork
Before you can choose the right artwork for your home, you need to decide which space you'll use for it. This is because every room in your home can set a different mood or ambience. You should select Western artwork that is in harmony with that ambiance. First, consider the color palette of the room. You may want to select a piece that pairs well with that color palette.
You should also measure the space to determine what size of art edition to select. As a general rule of thumb, artwork should hang at least 15 centimeters above the height of a piece of furniture. If you're hanging the artwork over a sofa, look for a piece that is about two-thirds the length of the couch. If you have a particularly large space, you may want to fill it with a cluster of two to three smaller prints instead of one large one.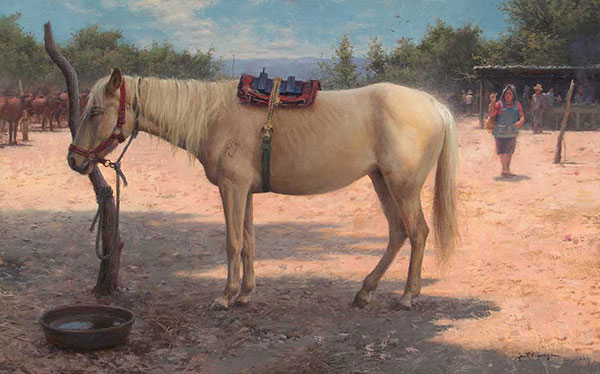 Decide on a focus or theme
As you click through the images on an art publishing website or Southwest art gallery, you'll notice that Western art tends to focus either on nature or on the human element within nature. Consider whether you prefer an edition in which nature is the prominent theme or whether you prefer to showcase the human element instead.
Understand key terms used by online Southwest art gallery publishers
You will notice that an online Southwest art gallery uses distinct terminology to classify the different prints. You'll want to check the edition size if you're purchasing an authentic print. This indicates how many editions total have been produced. The smaller the edition size is, the more exclusive your print will be. Another term to watch for is "sold out at publisher." This indicates that the online art publisher no longer has the original for that edition. If your heart is set on that particular piece, check with your art dealer for secondary market possibilities.
You can purchase exquisite limited editions directly from Fine Art Publishing or through a Southwest art gallery we work with. We are proud to feature an extensive collection of Howard Terpning limited editions, as well as artwork from other selected artists of notable reputation. Please check our FAQs page for the answers to commonly asked questions. You can also give us a call in Tucson at (520) 274-4992 for more information.
Other people asked
How to Incorporate Colorful Southwestern Art into Your Home
Why Historical Paintings Matter
How to Choose Southwestern Décor
How to Choose a Painting
How to Create Your Own Art Collection